It's Time to Start Your New Home Theater
Welcome to Innovative Theatres. Discover who we are and what we do.
RESIDENTIAL THEATER PROJECTS
Browse a few of our premier home theater installations.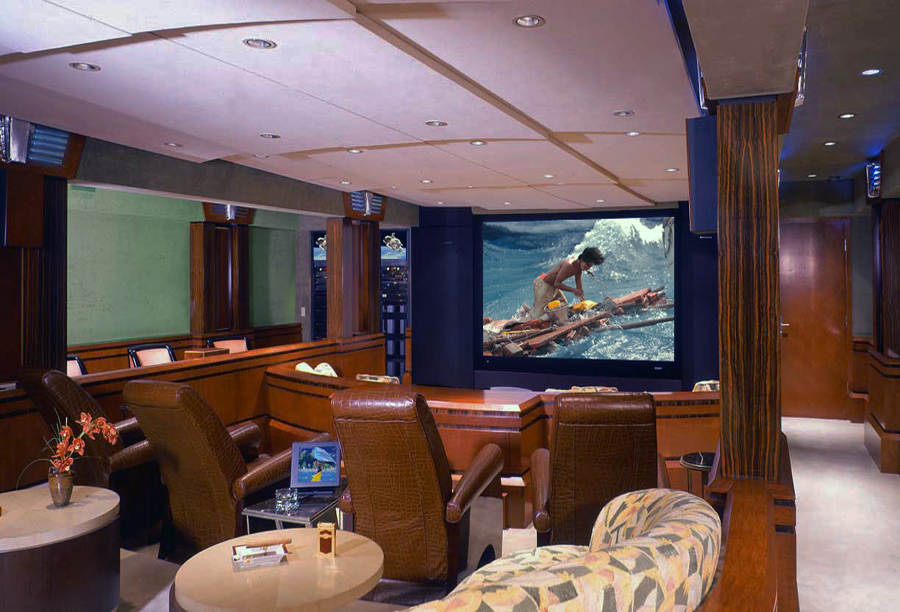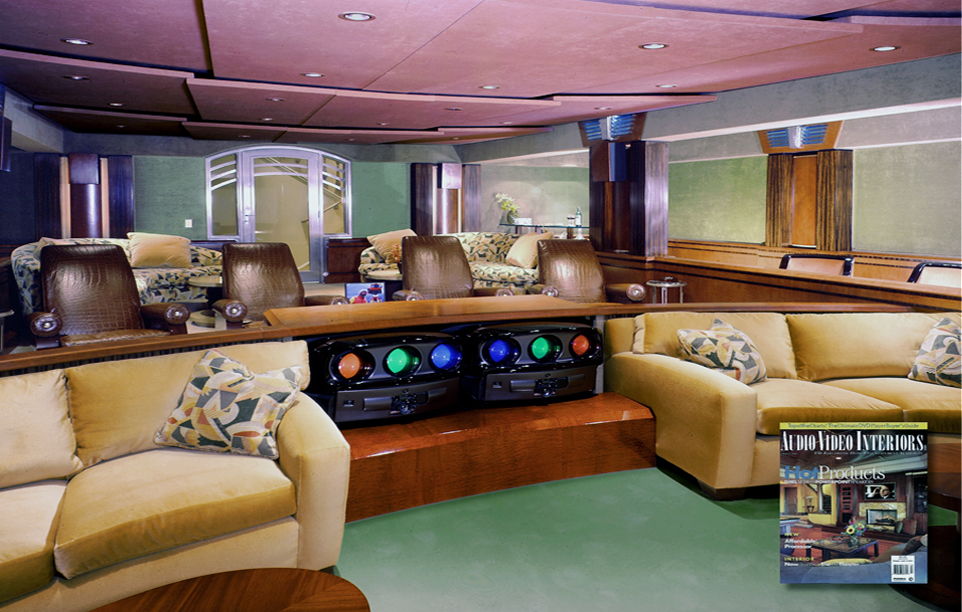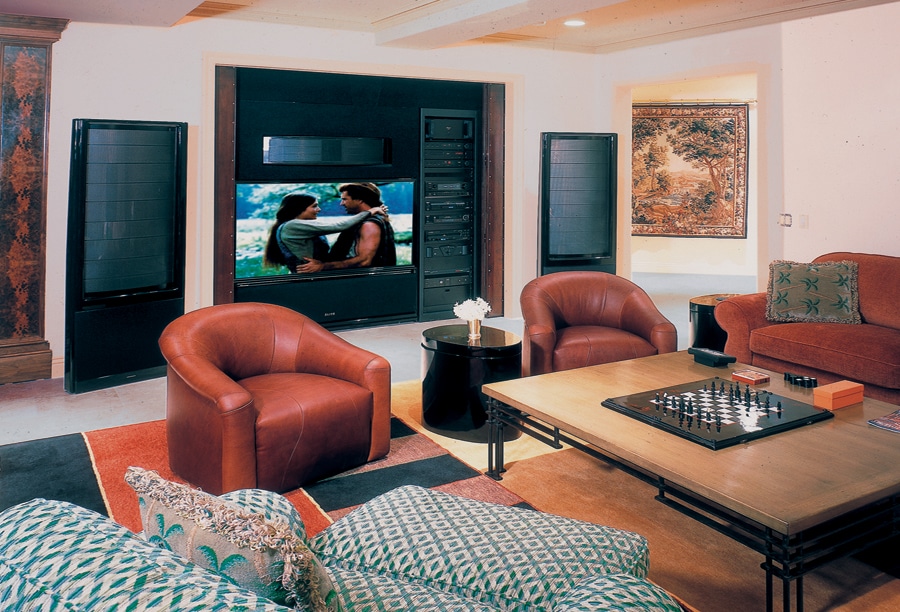 The owner's vision was to create an elegant 'Deco' environment, rich in exotic vintage materials but devoid of the stereotypical design excesses common to other 'Art Deco' cinemas…. elegant but tasteful. Technology and performance, materials, and craftsmanship were to be top rate. "Oh, and one more thing, I'd love a Cigar Lounge"!
Cinema La Cresta was designed and constructed with rich, layered wood custom stainless steel doors and hand-cast chevrons laced with fiberoptic lighting.
A custom exhaust system is integrated to accommodate the Cohiba Lounge, a cigar/martini area equipped with wireless surround sound headphones to deliver perfect 7.1 logic cinema sound to the "off-center" viewers. Radial patterned acoustical absorber panels in the ceiling provide uncompromising room performance and block unwanted theater sound from upper floors. Deco-inspired fabrics on custom sofas combine with Alligator-embossed leather Italian recliners to complete this truly sumptuous-yet-understated private cinema.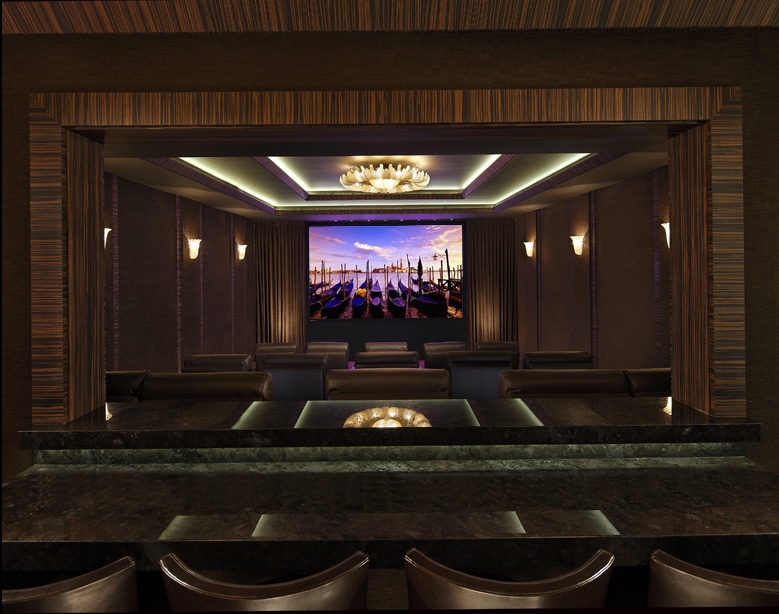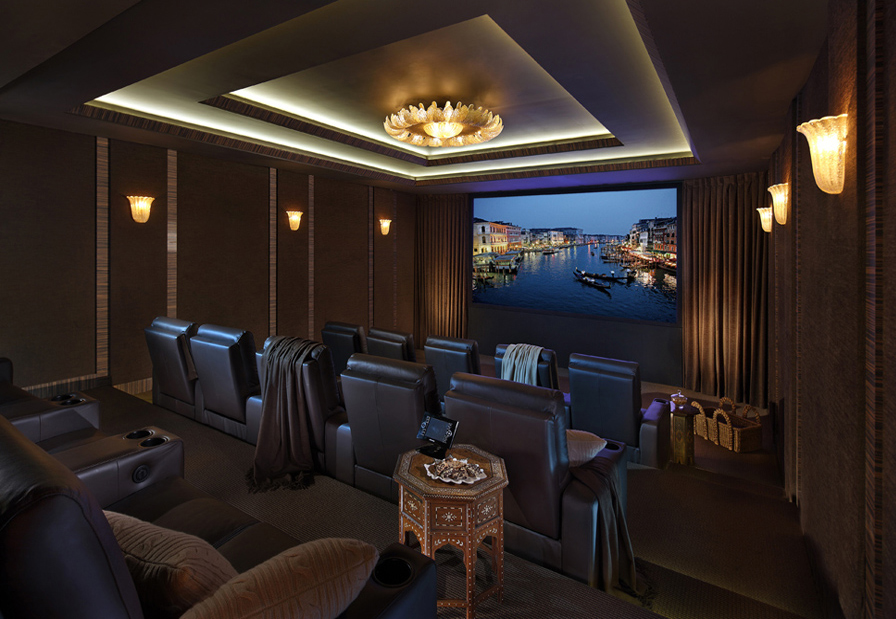 Modern Home Theater - Italian Accents
Timelessly elegant and technically sophisticated, this outstanding private cinema is the product of a combined design effort between Innovative Theatres and one of Southern California's premier interior design firms.
This extraordinary building features an exterior sculpture garden, elaborate guest rooms, a great multi-purpose room, and an extensive art and sculpture gallery.
Meticulously crafted details in Makassar Ebony, Murano Glass, and Black Granite carry throughout the fifteen-seat cinema, snack bar, and lower-level powder room.
Innovative Theatres custom integrated electronic systems deliver THX audio, video, and smart controls to the cinema, new compound, and existing home.
Custom Millwork & Seating
Beginning this significant project, Innovative Theatres worked with the principal architect and builder to review and revise structural drawings for a dedicated home theatre/office addition. Innovative' designers carefully space planned and detailed the entire addition including the home theater, theater bath and adjacent home office.
Innovative Theatres took the helm of the project, providing fabrication and installation of all finished elements.
Cinema Paradiso Key Components:
* Innovative Theatres Seating. * Eric Orr Studio's Water Sculpture. * Acoustical Wall Treatments with Integral Fiber Optic Accent Lighting. * Maple Veneer with Ebony-Accent Millwork. * Barco High Definition Video Projector. * Stewart 10ft. wide Film Screen * JBL Synthesis Cinema Sound.
Cinema Paradiso is not just "another pretty theater." For Innovative Theatres and one very "tech-savy." client, "this room is a fine example of seamless integration of theater architecture and the application of cutting edge technology".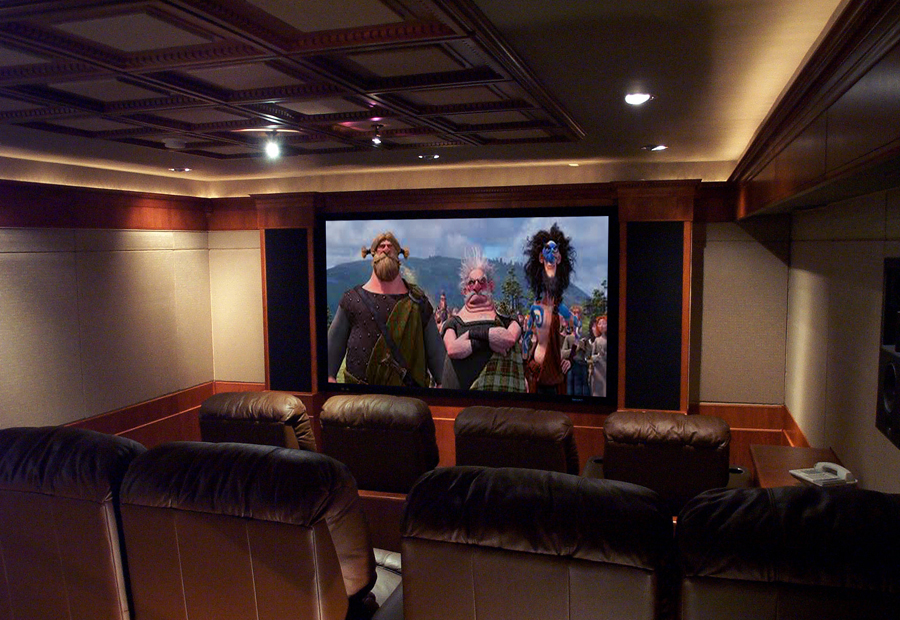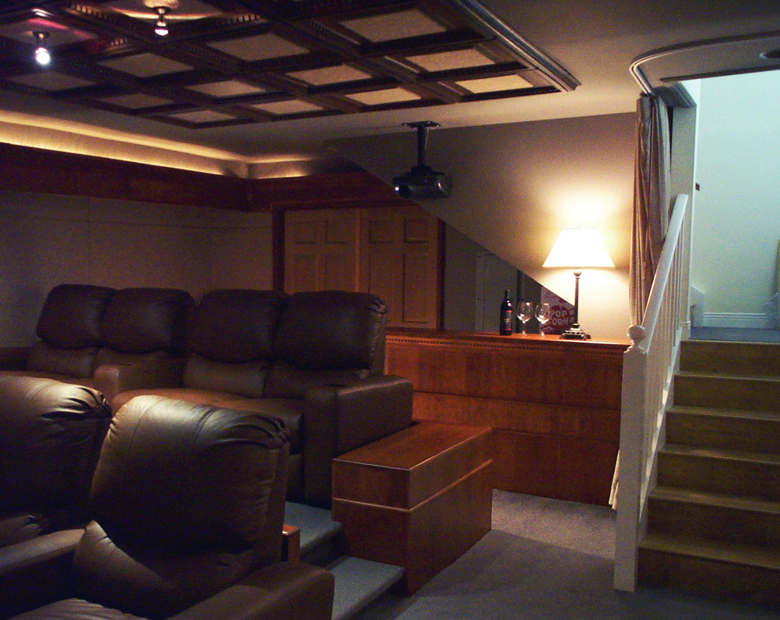 Basement Theater in Beverly Hills
Tucked within a Vintage Villa along Beverly Hills' tree-lined Maple Drive, this classically elegant private cinema offers a new life to a forgotten underground room.
A small private staircase leading from the home's kitchen to a dimly lit room. A room with low ceilings and whose sole purpose was to store forgotten objects.
Innovative Theatres saw the opportunity to create an area, a home theater that the entire family and friends could use and enjoy.
We carefully designed a platformed seating area, lightly scaled millwork, and acoustical wall systems to create this elegant and well-functioning family theater—all without visually crowding the room's appearance. We addressed the theater lighting with overhead micro spots and continuous perimeter up-lighting built into the custom wood cornice molding.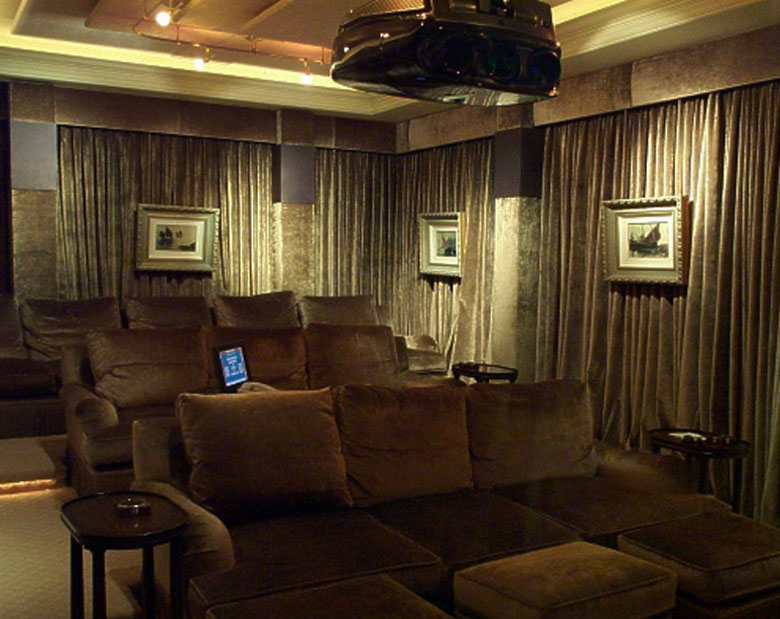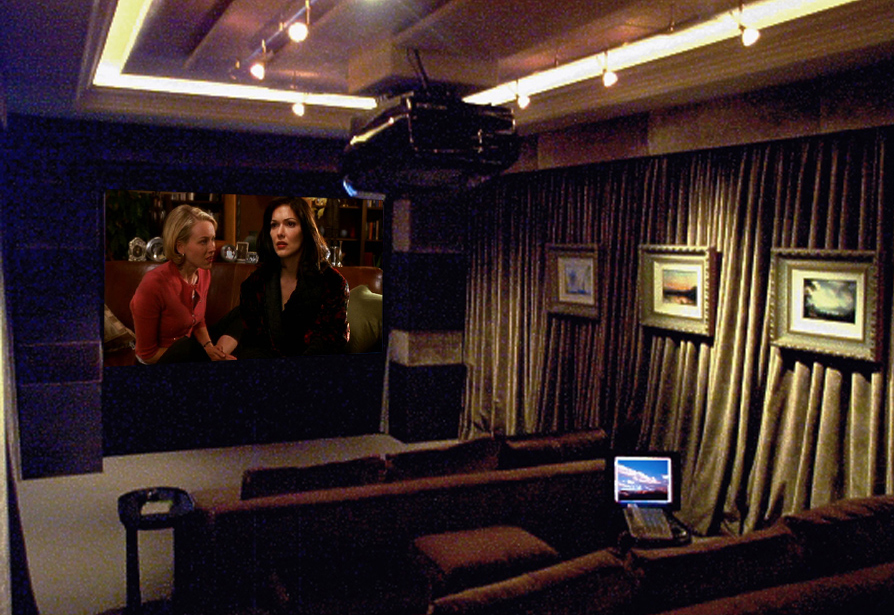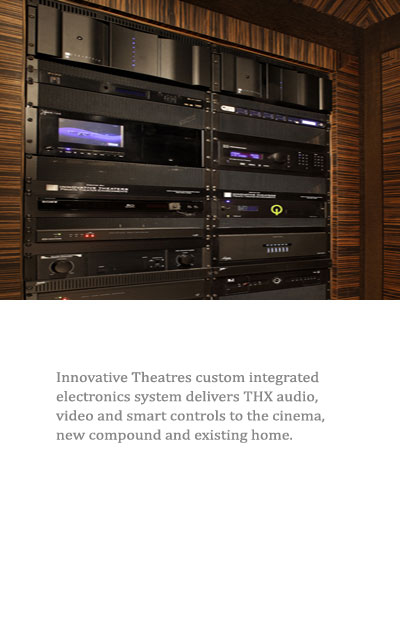 Set inside a magnificent Palladian Villa overlooking Newport Harbor, we designed the Terrace Cinema to blend seamlessly with the home's interior. Loosely draped fabric treatments provide acoustic reinforcement within the theater. In addition, it also provides a backdrop for the client's art collection.
The Terrace Theater is a three-row, twelve-seat theater featuring custom-crafted theater recliners styled in mink-toned ultra-suede with deep contrasting piping.
The theater features a premium THX level JBL Synthesis sound system incorporated into an ancillary room, along with a voluminous library of audio and video program material. Digital projection and a 'woven' acoustically transparent film screen make for a lifelike video presentation.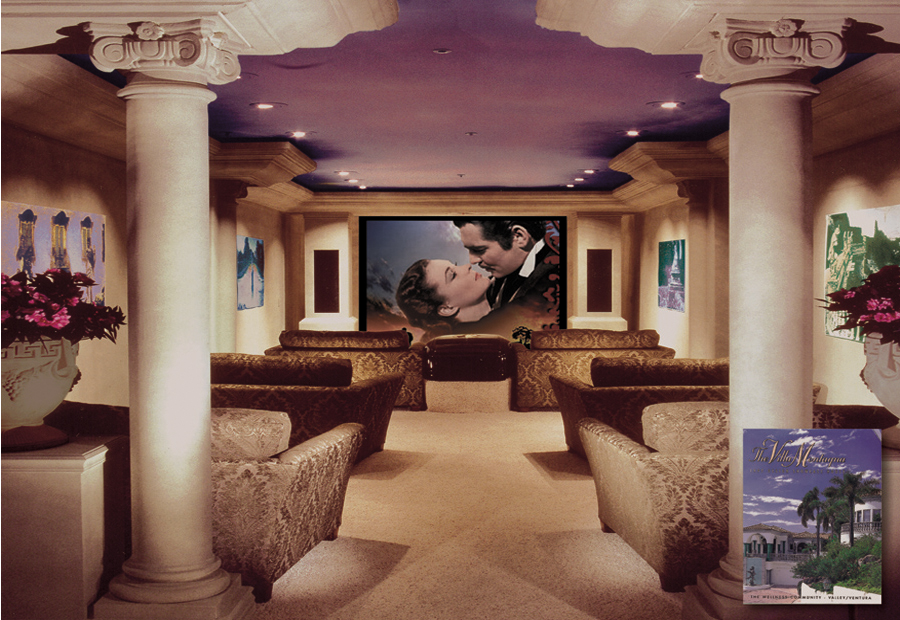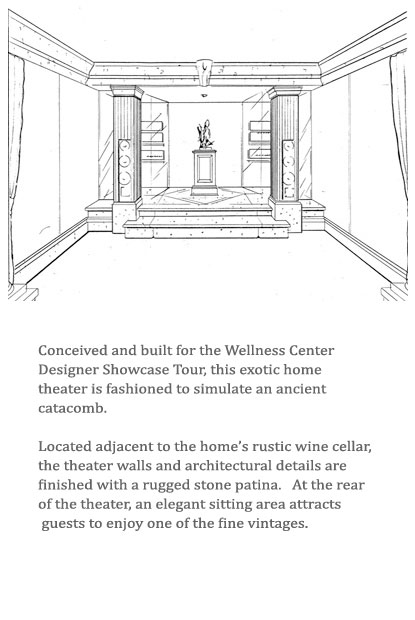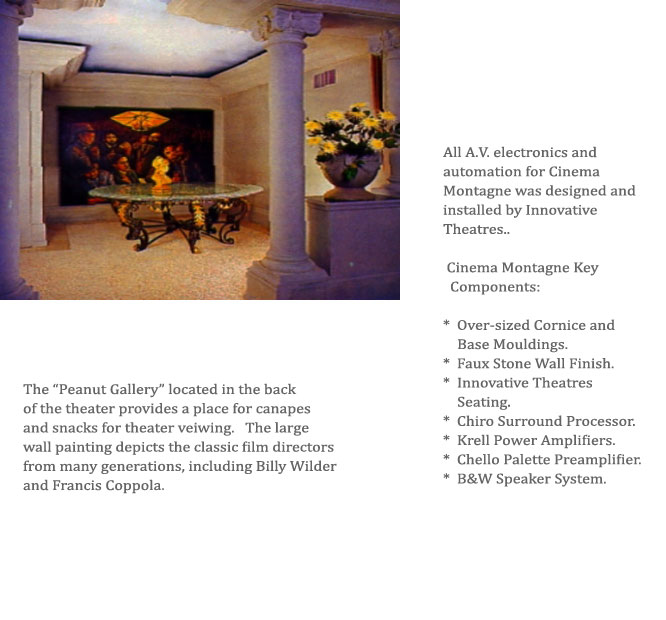 Wellness Center Design Showcase
This splendid Italian villa is bathed in light and sits atop a steep hillside, far below in the shadows, a welcoming retreat…Cinema Montagna.
Conceived and built for the Wellness Center Designer Showcase Tour, this exotic home theater fashioned to simulate an ancient catacomb. Located adjacent to the home's rustic wine cellar, the theater walls and architectural details finished with a rugged stone patina. At the rear of the theater, an elegant sitting area attracts guests to enjoy one of the fine vintages.
Situated adjacent to the home's wine cellar, the resulting design is a stunning, stone-finishedhide-away with over-sized classical details including Corinthian columns and up-lit cornices defining the theater's perimeter.
Compact, custom-designed "couples" chairs provide seating for twelve in the main room, with a wine bar and tasting area at the rear with seating for four.
Artwork by: Keith Willis and Jon Heberling of Innovative Theatres.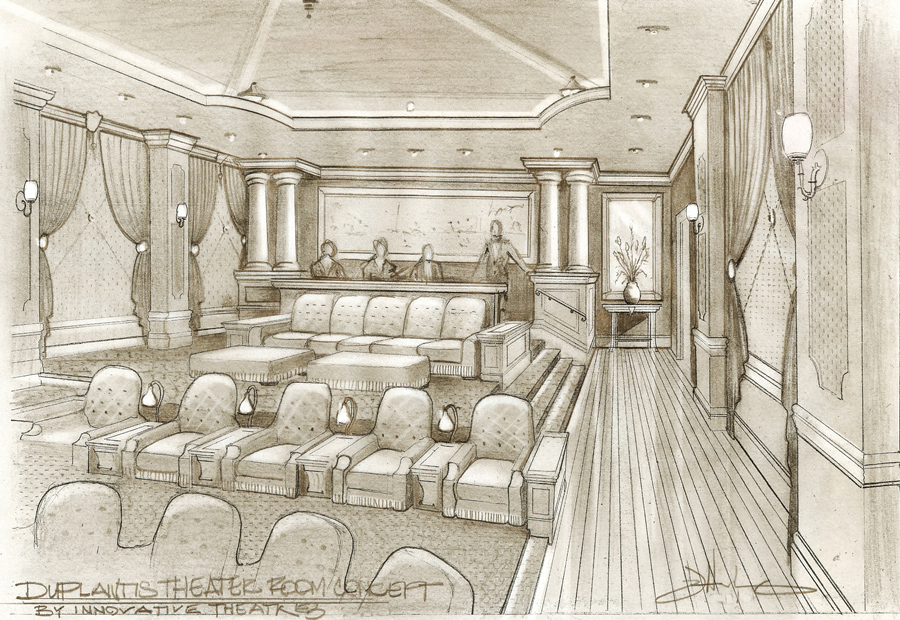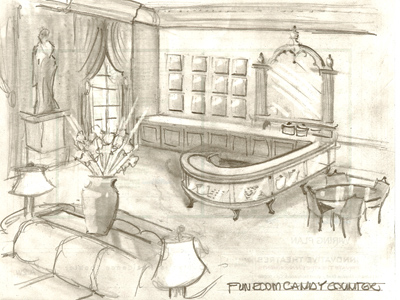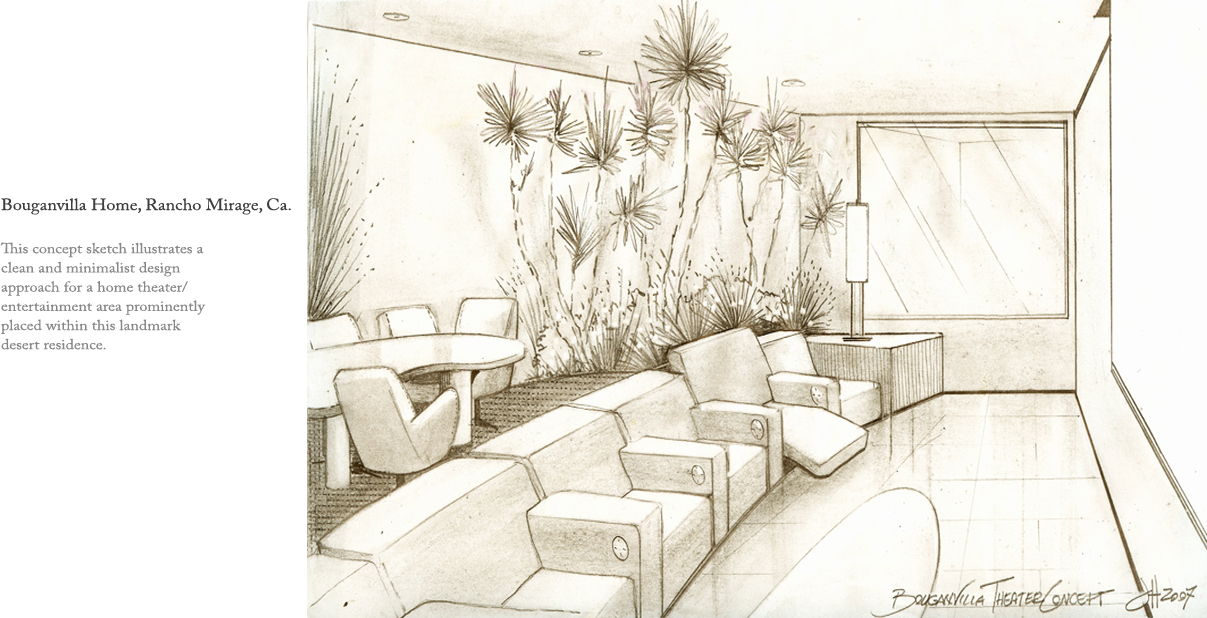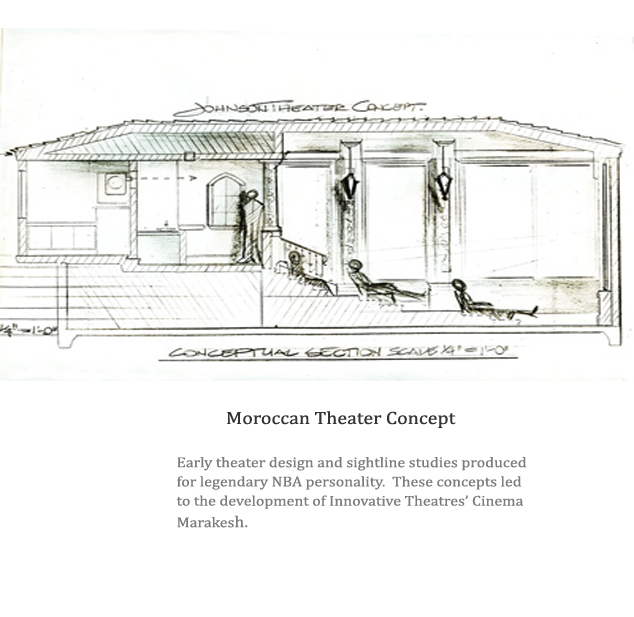 Aristic-Renderings-Moroccan-Theater-Concept
For many of our projects, artists are brought on board to convey their theme or concept.
Here are a few commercial and residential projects that effectively display what the client can expect before fabrication and installation begin.