We Design, Build, Install and Manage Dynamic Screening Room Projects
Innovative Theatres is recognized as a leading Commercial Cinema and Screening Room design and build company. We are dedicated to creating unique entertainment environments.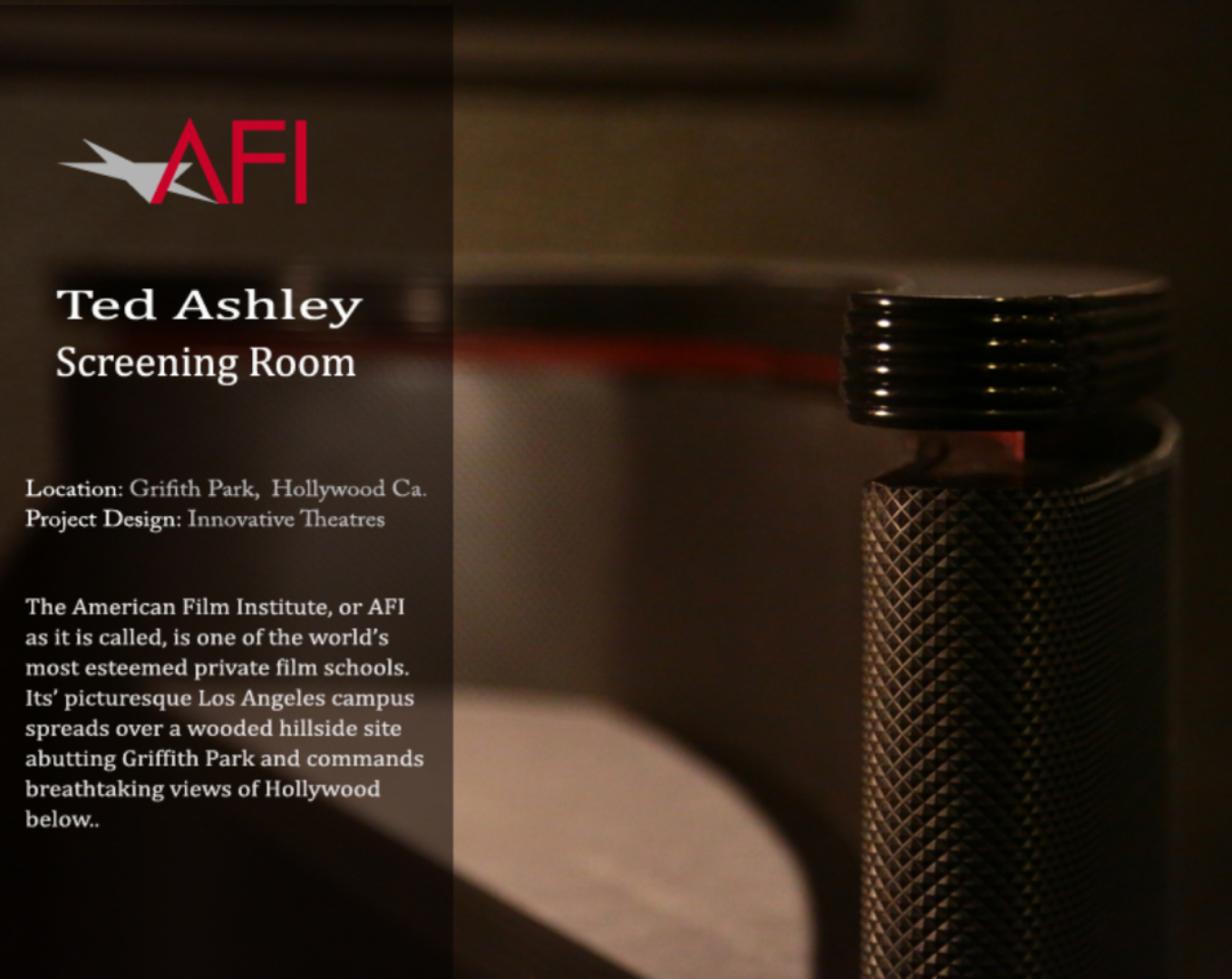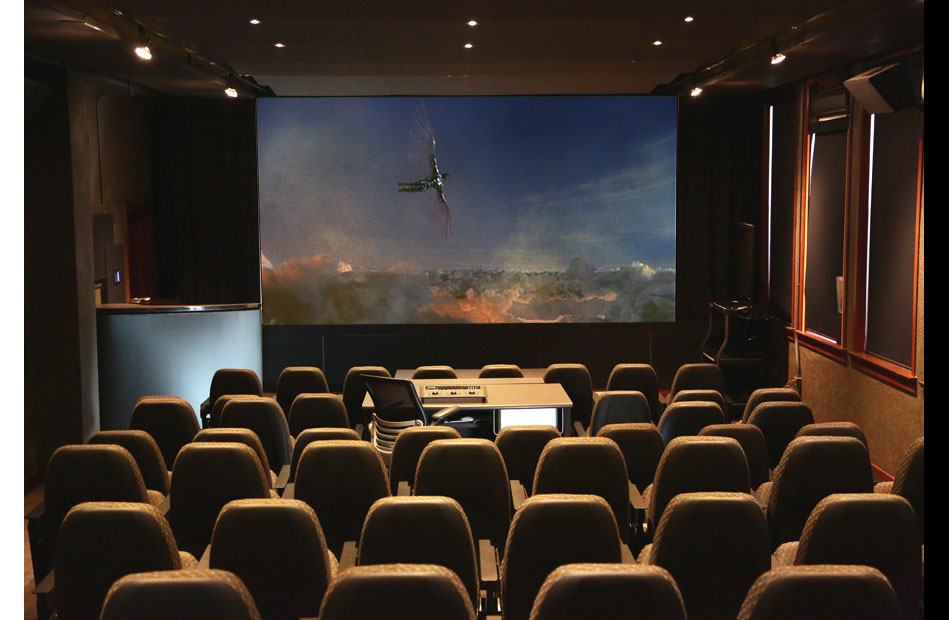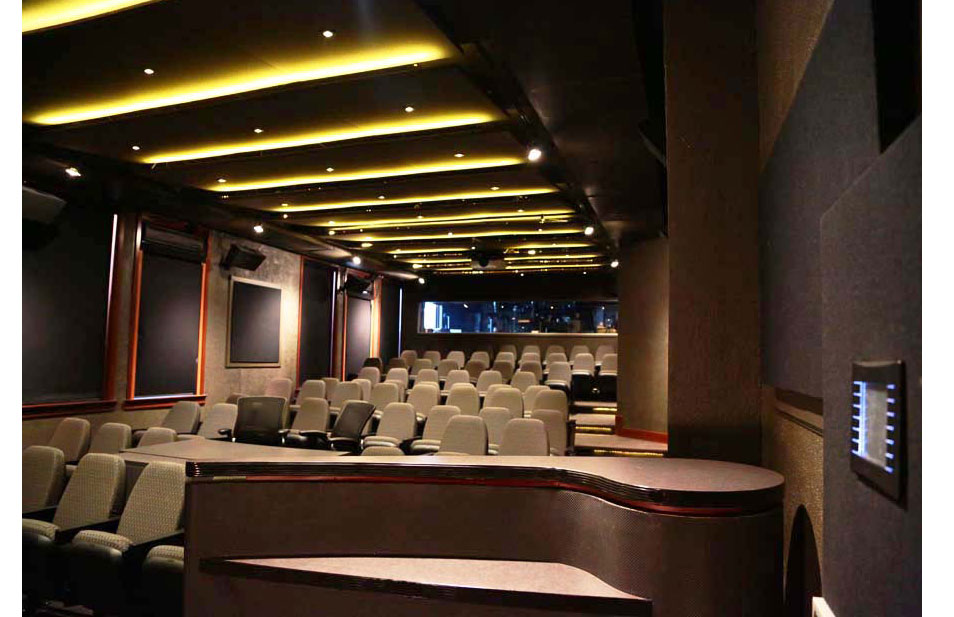 Ted Ashley Screening Room
The American Film Institute (AFI) is known worldwide for producing today's most regarded producers, directors, and cinematographers.
The campus buildings house many classrooms, labs, and instructional screening rooms. It is a well-preserved example of early 20th century California architecture.
Innovative Theatres de-constructed the entire screening room to prepare for an entire makeover. We redesigned and built new acoustics, platforms and seating, and millwork. From a technical standpoint, Innovative Theatres provided a host of performance-based improvements, including:
Architectural room acoustics, energy-efficient lighting, HVAC & noise management, custom-designed editing workstation. A complete room renovation. In addition, we installed a new State-of-the-art 4K digital video system and JBL Professional sound system.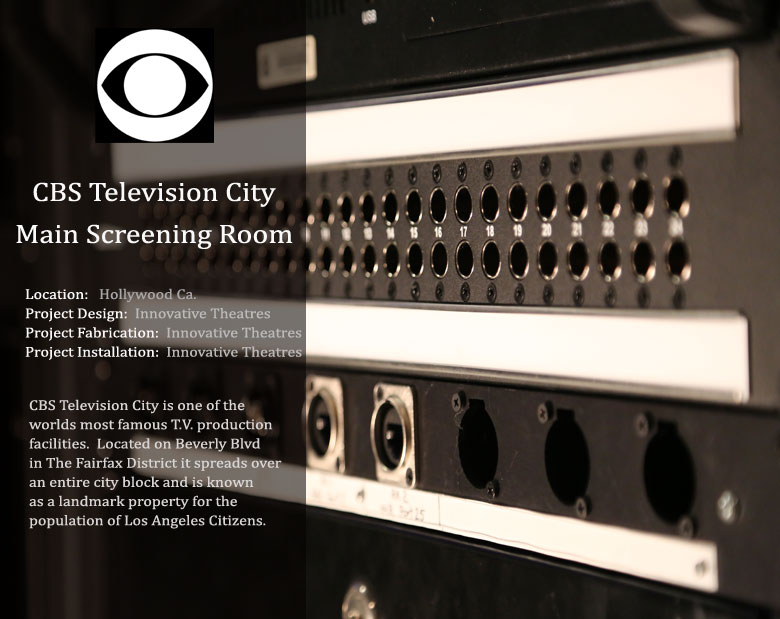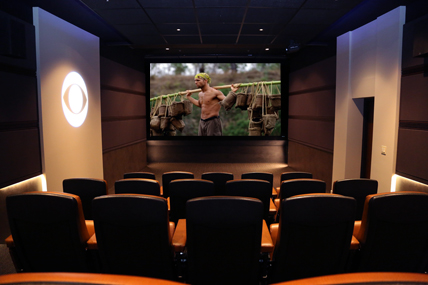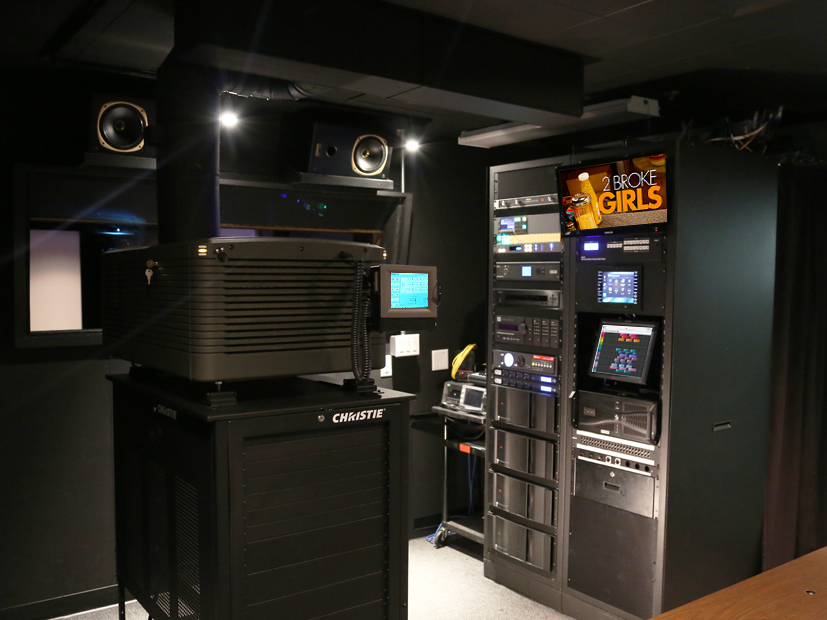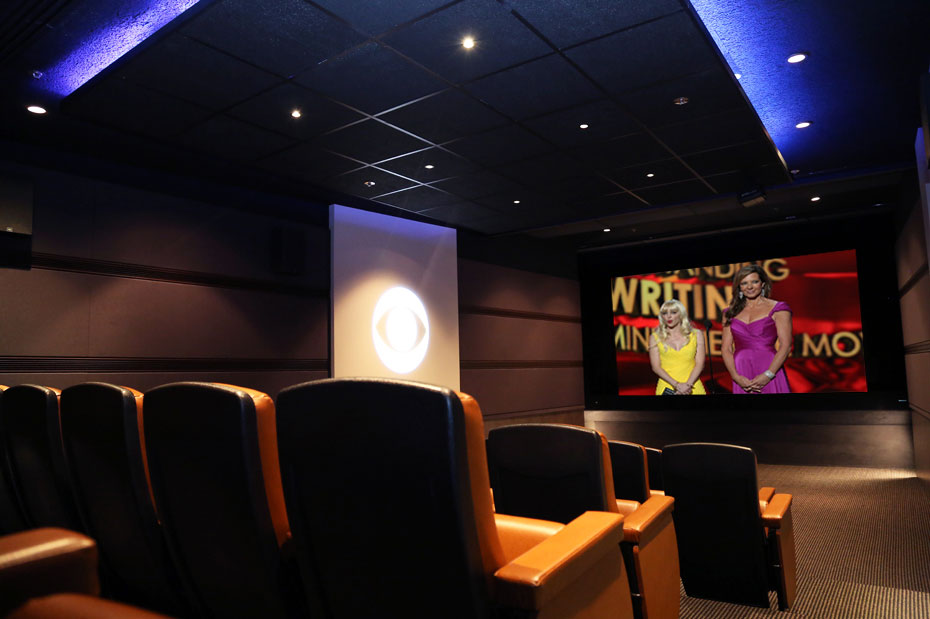 Since its opening in 1952, Television City, Los Angeles has been the West Coast home of CBS broadcasting and an iconic symbol for Southern California's entertainment industry. Over the years, TV City has been home to Ed Sullivan, All in the Family, and the long-running Carol Burnett Show… to name a few.
Innovative Theatres began working with CBS engineers on the renovation of the primary screening room. The first task, to update the room's 70s-era automation. Then we transitioned the existing projection system from 35mm film to professional-grade D-Cinema digital technology and the sound system to 7.1 logic digital surround.
As the project progressed, other aspects of the screening room were also outdated. At that point, Innovative Theatres allied with CBS facilities designers to develop a renovation strategy for the screening room makeover.
Improved acoustics and new, luxurious cinema seating, and modernized interior finishes started the screening room renovation. State-of-the-art LED's provide accent lighting installed in the ceiling drop-down acoustics and stairway lighting. A Gobo lighting fixture projects the CBS logo onto new 'monolith' theater walls. Accent (color-changing) lighting designed for a new 'dropped' soffit is suspended above the audience seating area.
Custom designed wall acoustics featuring fabric-covered absorber panels paired with stained hardwood 2D & 3D diffusers accomplish optimized sonic performance with top-end boardroom esthetics.
The new CBS TV City Screening Room features a 17′ wide Stewart micro-perforated film screen with JBL Synthesis integrated 7.1 sound system calibrated to THX professional standards.
"It was a rather personal thrill to employ the many elements of theatrical design to the Interior of the TV City Screening Room. To witness the results of this synthesis of lighting, textures, and focused architecture is a genuine reaffirmation of performance meeting contemporary design."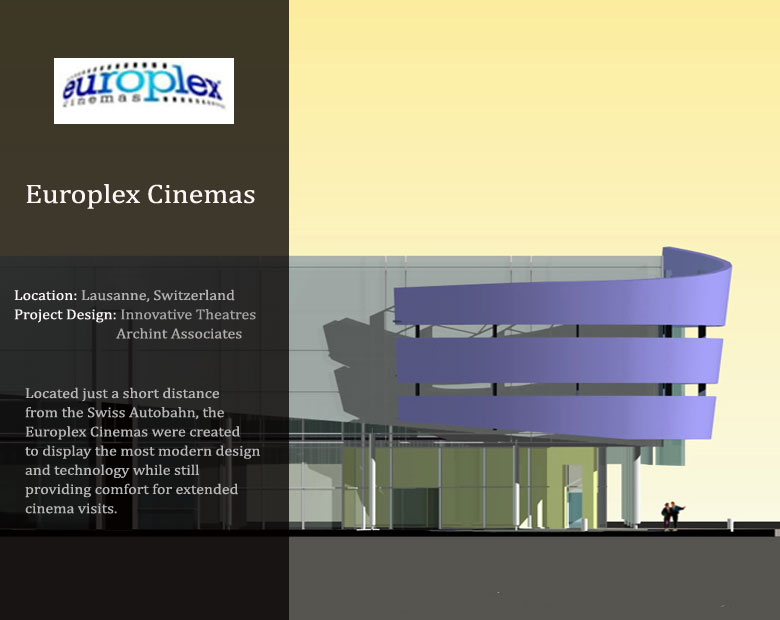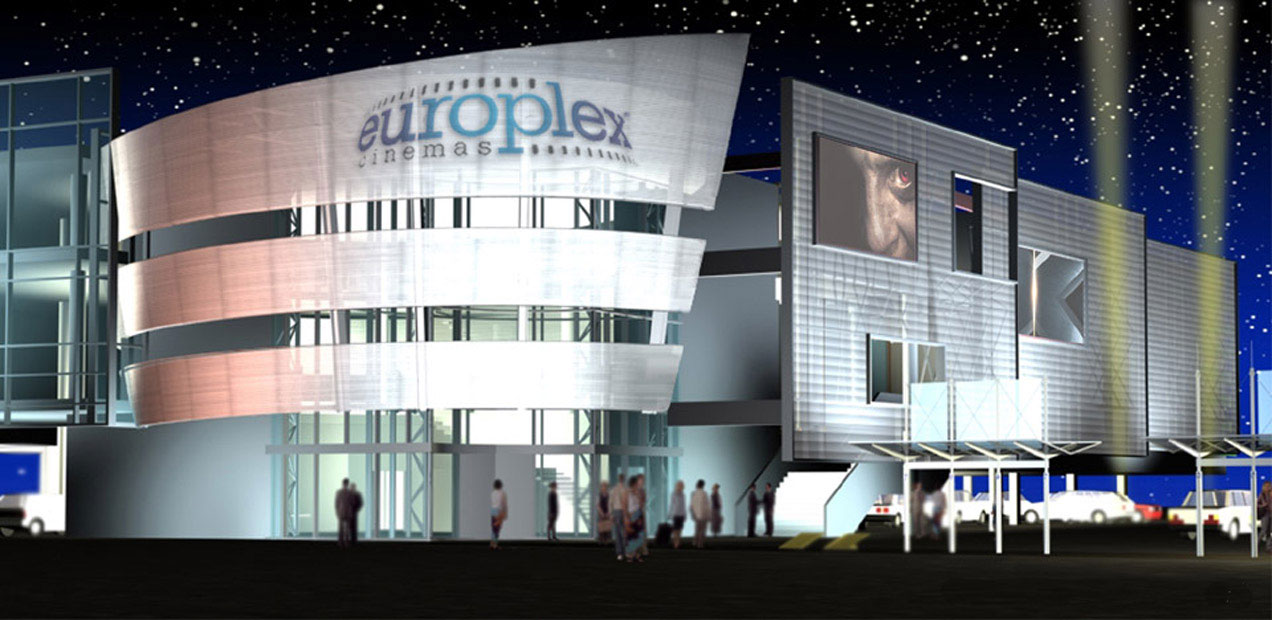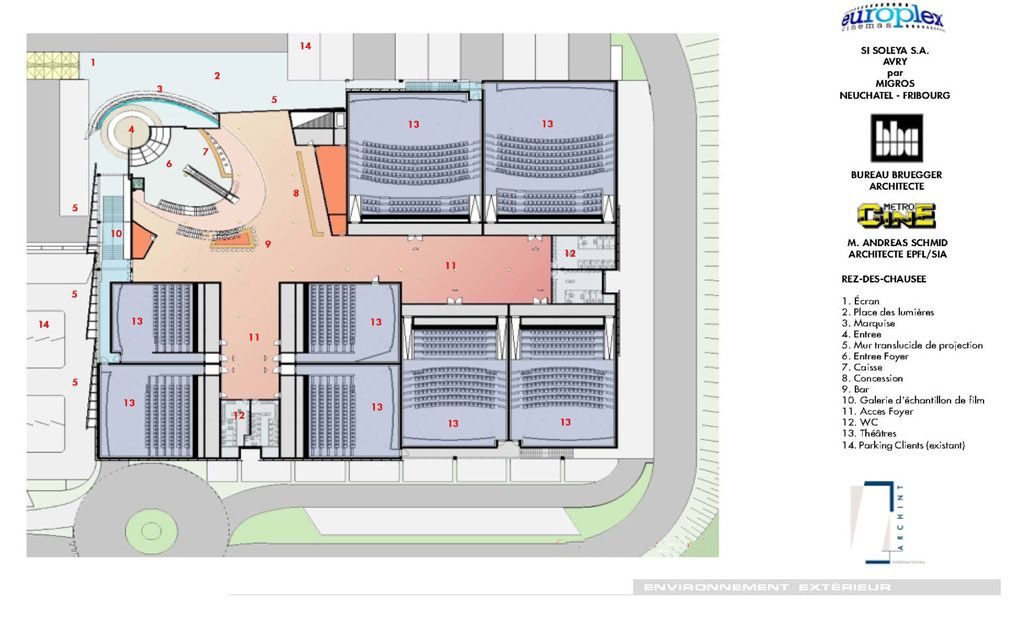 Avery Cinema Complex - Switzerland
The Avery Cinema Complex is next to the Autobahnen der Schweiz. It allows for direct customer availability to the theater complex. Access to all eight theaters is from a single large atrium foyer equipped with the latest Digital projection (D-Cinema) and current technology Digital THX sound.
Sophisticated architectural lighting effects combined with projected digital signage and imagery add an extra dimension of Kinetic excitement to the Europlex Cinemas.
Innovative Theatres developed an all-inclusive program of ultimately 'projected' signage and building ornamentation for this progressive Swiss-based cinema developer.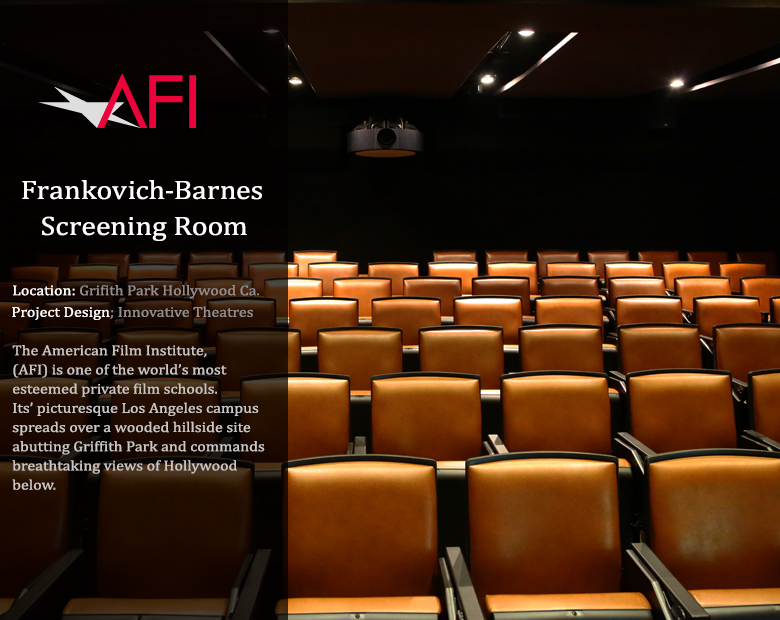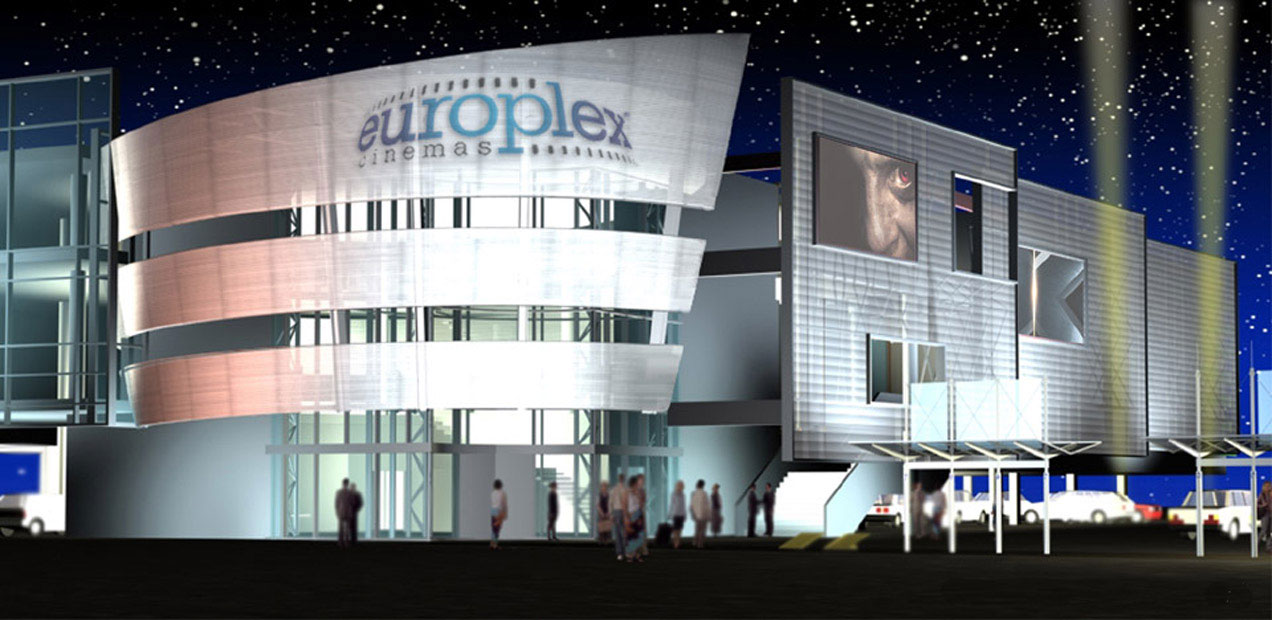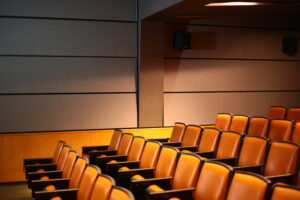 Francovich/Barnes Screening Room
AFI, The American Film Institute, is one of the world's most esteemed private film schools. Its picturesque Los Angeles campus spreads over a wooded hillside site abutting Griffith Park and commands Hollywood's breathtaking views below.
The many classrooms, labs, and instructional screening rooms are well-preserved examples of early 20th century California architecture and are a significant source of pride for the institution.
One prerequisite for the Francovich/Barnes Screening Room was that the finished theater, although new, should feel as if it were original to the building.
Innovative planners studied the existing facility to identify interior and exterior elements. The finished interior design plan developed as a high-tech, functional renovation rooted firmly in the building's history.
From a technical standpoint, Innovative Theatres provided a host of performance-based improvements, including:
Architectural room acoustics.
Energy-efficient lighting.
HVAC & noise management
1 logic theater sound.
Laptop and Editing connectivity
Crestron system and room controls.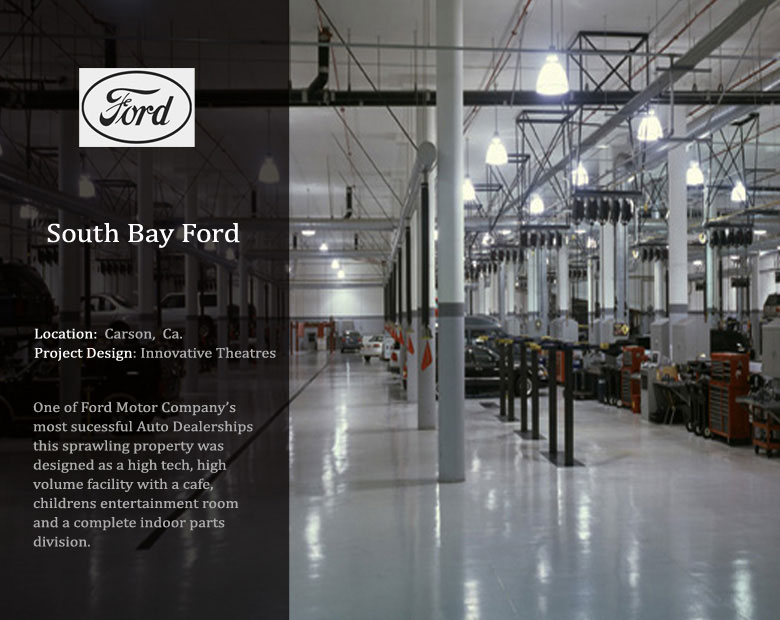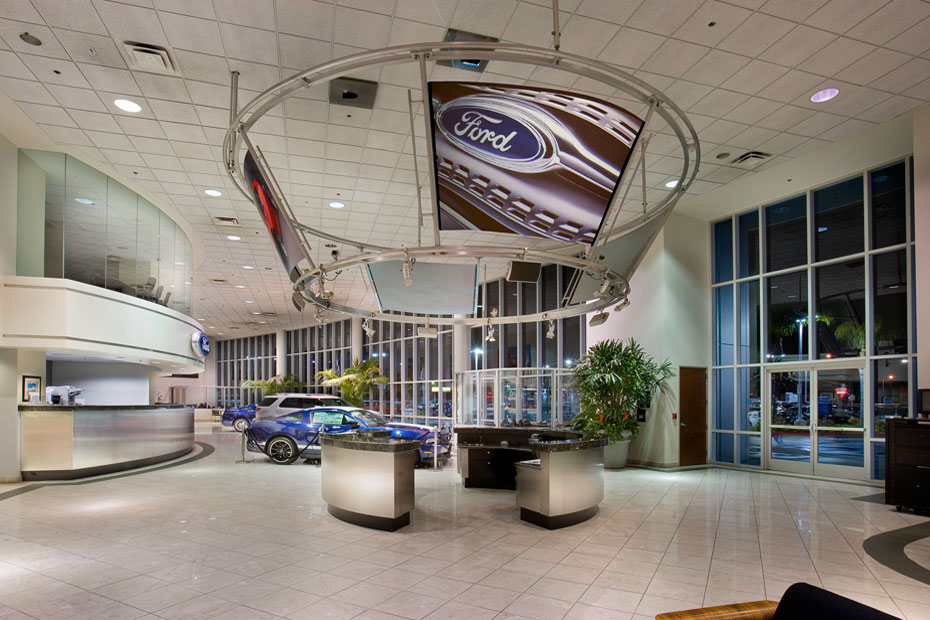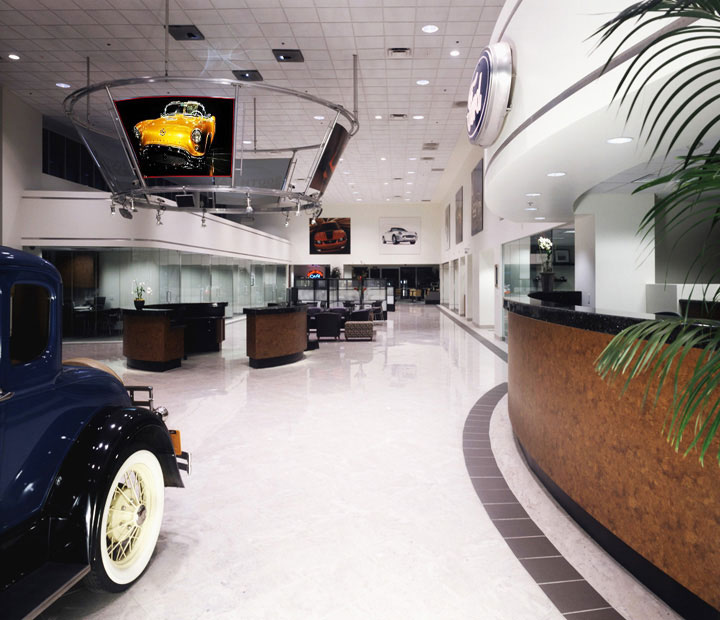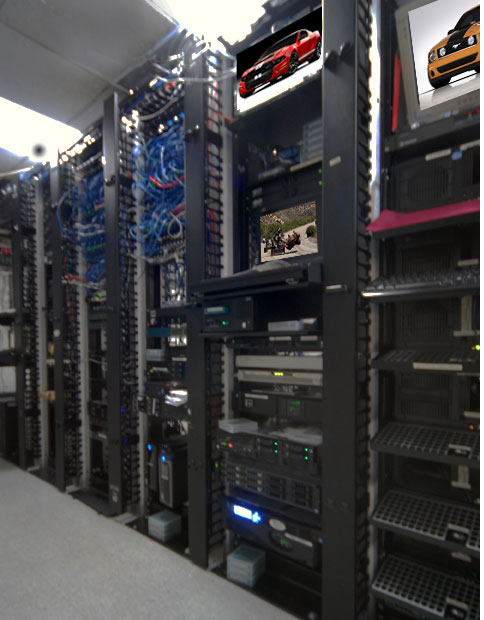 South Bay Ford - Video Array
Innovative Theatres designed and fabricated the center video display structure for the Ford Motor Company's South Bay Ford Auto Dealership. We designed the aluminum tubular structure to mount 4 light, illuminating video projection substrates around the perimeter.
High-lumen video projectors hide in the ceiling space and project onto the video screens from above. All screens can independently project program material from a multitude of video sources. We installed the sources into the communications room on the facility's upstairs digital distribution floor. Movies, advertising, and broadcast sources play continuously through-out open hours.
The video array and assortment of necessary facility devices include area lighting, security cameras, and area focused speaker systems to provide audio for video and showroom music. Innovative also wired and installed the company's complete communication system.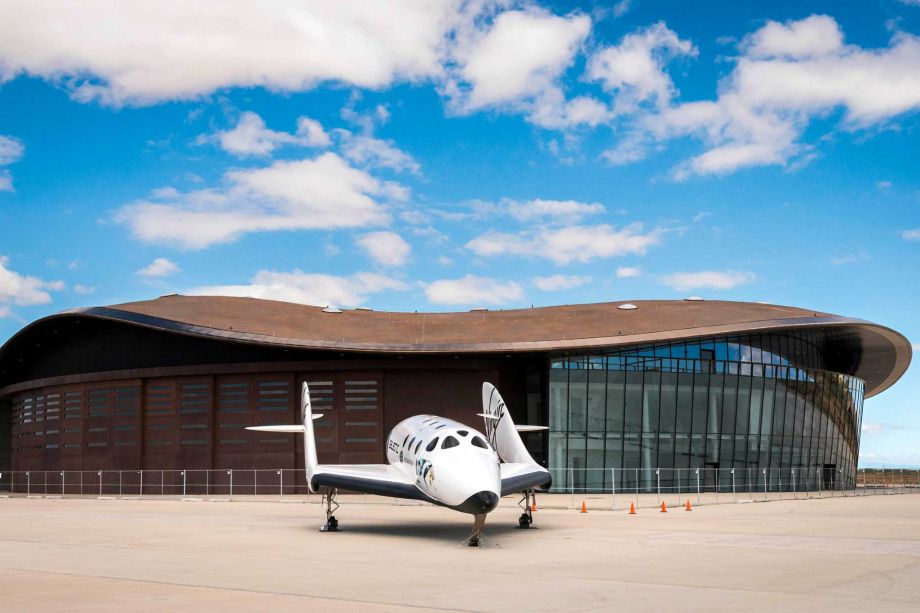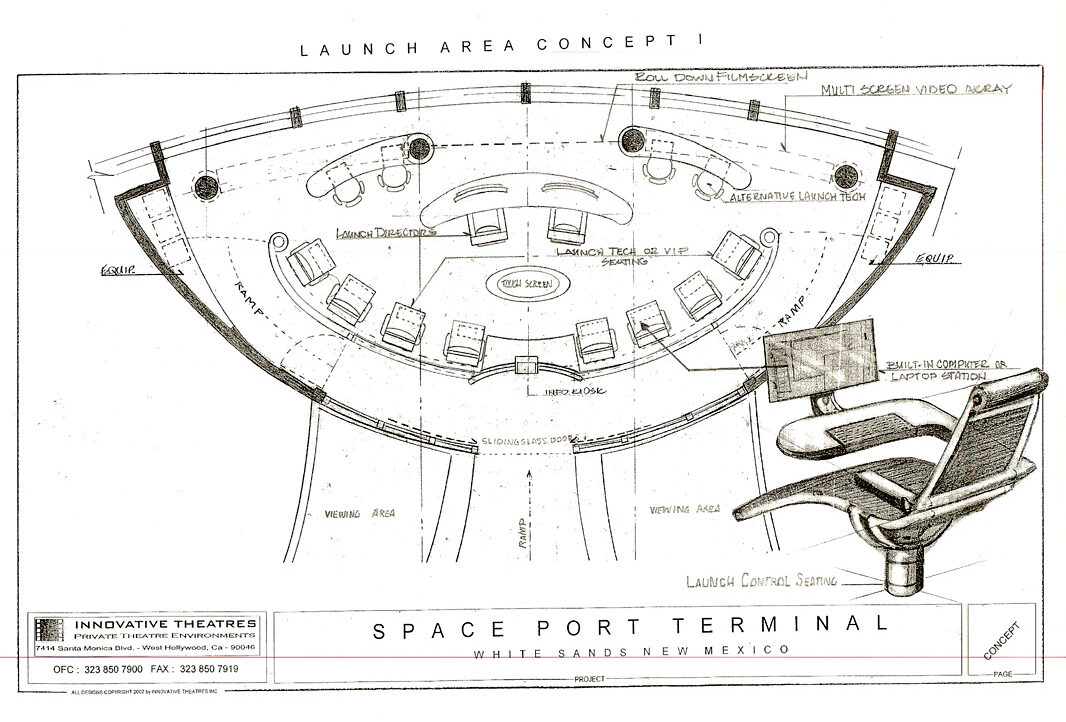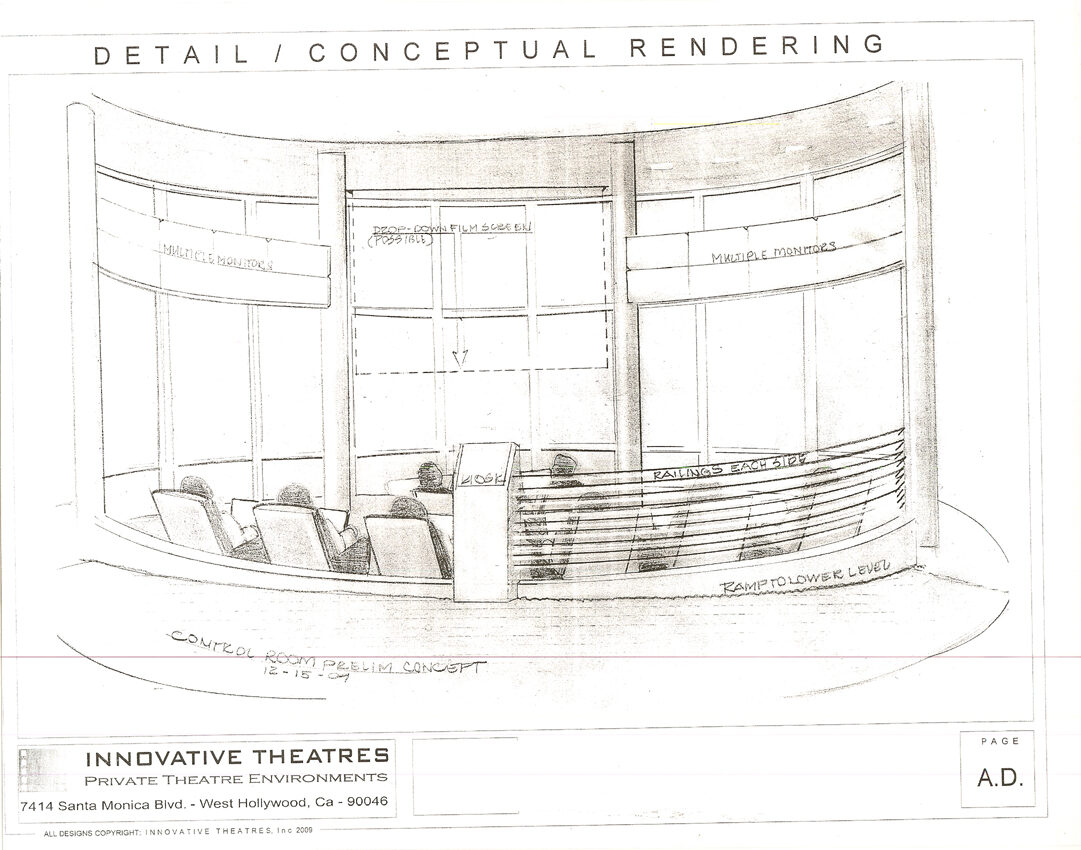 Virgin Galactic
Space Port
Space Port America is Dick Rutan and Richard Branson's visionary creation for Virgin Galactic's conceived space tourism company. Perhaps more significantly, it's the world's first committed air terminal for private space travel.
During the early design stages Spaceport America in White Sands, New Mexico, Innovative Theatres was contracted to provide design and technical consultation for key areas of the project, including the Launch Control Room, Terminal Lounge areas, and the private 'Celebration Suite' for the friends and families of Virgin Galactic's new space tourists. Innovative Theatres worked with project engineers on many design sketches to explore ideas from launch control seating systems to luxurious viewing lounges of this history-making terminal.